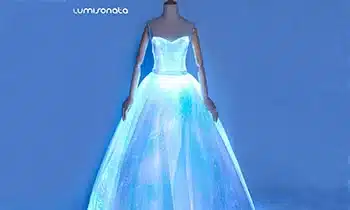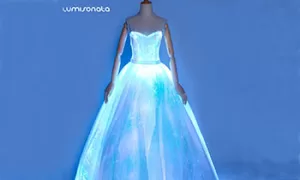 Product Name: Light Up Prom Dress
Brand Name: Luminous Clothing
Place of Origin: Guangdong, China
Model Number: YQ-108-S
MOQ: 10 Piece/Pieces
Certificates: CE FCC Rohs
Lead Time: 1-15 Days According To Your Order
---
Luminous Clothing's light up prom dress is a high-tech product that uses knowledge from multiple disciplines such as textiles, optics, and electronics. It can manually and remotely control the brightness, color, speed change and on/off of clothes' light, with a variety of colors and modes for you to choose from. Luminous ball gowns can be widely used in wedding banquets, various fashion shows and night entertainment venues, as well as other special events. Perfect for anyone who wants to make the ultimate fashion statement. Also makes a perfect gift for your beloved and close friends.
Product Description
Product Name

Led light prom dress luminous dress Glowing Women Ballroom Dance Dress

Model No.

YQ-108SS

(Led light prom dress luminous dress Glowing Women Ballroom Dance Dress)

Style

wedding dresses/ evening dresses/Prom Gown

Material

Optical fiber fabric+Tulle

Battery Capacity

1000mAh

Light mode

monochrome, strobe, flash, fade, smooth

Lighting Source

RGB LED lights

Accessories

Battery, Remote controller, USB charge cable

Power

Rechargeable Battery by USB cable

USB Charging Time

2-3 hours

Battery endurance time

5-15 hrs(depends on the lighting color)

Fabric Color

white / red / blue / yellow / purple / coffee

Light Color

Red, Yellow, Green, Blue, Purple, White, Pink

Voltage

DC 3.7V

Brand

Lumisonata

Light control ways:

Manual and remote control, multi-colors and modes for your choice

Light mode

Monochrome, polychromatic ,strobe, flash, fade, smooth

Remote controller

Can control the brightness, color change, speed changing and turn on/off.
Product FAQ
1. Who are we?
We are Shenzhen Fashion Luminous Technology Co., Ltd., a young high-tech luminous clothing manufacturer. Founded in April 2013, LUMISONATA is a leader in the smart optoelectronic textile industry, focusing on overall solutions for smart optoelectronic textiles. Focusing on the two cores of technology and fashion, a special intelligent luminous fabric was invented and created. It combines luminous fabrics with electronic control systems to create numerous specialty products across borders, and has more than 20 invention patents.
2. How does the product shine?
Luminous products are made from fiber optic cloth and LED lights that glow when powered by batteries.
3. How to install LED lights on clothes?
Bundle the optical fiber in the optical fiber fabric and connect it to the LED lamp beads. LUMISONATA has developed molds for this and can do it as easily as turning a screw.
4. Is there a risk of electric shock when wearing luminous clothes? Will it generate heat?
There is absolutely no risk of electric shock or electrocution as all our products are powered by low voltage batteries (3 V or 4.5 V). Fiber optic fabric does not heat up when ignited.
5. Can it be washed?
Yes. Can be gently hand washed with water below 50 degrees Celsius and natural soap (scrub only, not knead or twist), but the battery box must be removed or kept away from water before washing. If you remove the battery box, keep the cord plug away from the water. This fabric is not machine washable and does not fold properly. Do not dry or iron after washing, only hang to dry.
6. How to store items?
Fiber optic fabric is as fast as any other synthetic fabric. Unlike other synthetic fabrics, never fold fiber optic fabric perpendicular to the optical fabric or you may permanently damage or break the fiber. The fiber optic fabric can be folded parallel to the fiber optics (carefully). For small items, just use a clothes hanger. But for larger items (e.g. tablecloths…) we recommend rolling the item into a roll with a diameter of at least 10 cm (4 inches).
7. What should I do if part of the optical fiber cloth product does not light up?
The fiber bundles in the fiber fabric are generally disconnected from the LED coupling part, so the light from the LED light cannot be guided into the plastic fibers in the fiber fabric, causing some areas of the fiber to darken. It must be removed to perform the repair, and once the product is opened, simply re-tighten the disconnected fiber optic bundle and LED.
8. What should I do if it cannot be charged?
There are two reasons for charging failure: First, the USB cable is faulty. Try using another charging cable to see if it works. However, if it doesn't charge, the battery may be to blame. Products that have not been used for a long time may deteriorate. In this case, if the battery is severely discharged and cannot be charged, a different battery/controller is required.
9. What should I do if a color is not bright?
It may be due to failure of one of the four solder legs of the LED lamp bead, and using a mold is the best way to handle this situation. LUMISONATA does a great job in this regard and this cannot be an issue or issue with their product.
10. How many colors are there?
This depends on the electronic controller used in the product configuration. A few of them come in 7 colors, but the universal colors are determined by the AI on the phone. You can debug all colors on your phone.
11. What does the fabric look like when the light is not turned on?
In general, it is not much different from ordinary fabrics.
​