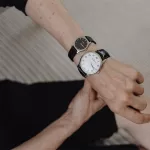 The watchmaking industry was once dominated by mechanical watches which was driven by a complex clockwork mechanism. Now the dominant position has been secured by quartz watches which use electronic oscillators regulated by quartz crystals to keep time. The quartz crystal vibrates very quickly in response to an electric charge which usually comes from a battery; it is these vibrations that tell the quartz watch how much time has passed.
Quartz watches are just another example of how seemingly little progress in technology and science have practically managed to transform our civilization on a large scale with the continuing efforts of countless innovators, engineers, scientists, manufacturers, and designers. Quartz watches first hit the market in 1969 in the form of Seiko's Astron. The brand new introduction led to a crisis for the Swiss watchmaking industry which chose to remain focused on traditional mechanical watches, while the majority of the world's watch production shifted to Asia that embraced the newfangled technology of quartz watches manufacturing.
Today, quartz watches have taken over the vast majority of the market share of the watch industry. Various advantages of quartz watches over mechanical watches enable them to dominate the market. Generally, quartz watches deliver more excellent performance than mechanical watches in terms of the following:
Accuracy and reliability
Lightweightand slimness
Multifunction and extendibility
For the purpose of this article, we will be taking a closer look at the quartz watches and shortlist some of the best-selling hits.
Accuracy and Reliability
Quartz watches are incredibly accurate for a scientific rather than craftsmanship reason. The tiny piece of quartz inside of a quartz watch serves as an oscillator. Quartz is an ideal material to function as an oscillator. To begin with, it loses very little energy as it vibrates, so the vibrations are extremely steady. Secondly, it exhibits a piezoelectric effect, meaning that it vibrates in response to an electric charge and, conversely, generates voltage when it vibrates.
Under this principle, the quartz oscillator is set to receive an electrical charge from an integrated circuit powered by the battery. The electricity makes the quartz oscillate at the rate of 32,768 times per second. As the quartz oscillates, it sends electrical pulses, at the same rate of 32,768 per second, back to the integrated circuit. The circuit precisely counts the pulses and returns to zero each time the count hits 32,768. In the case of an analog watch, the one-second impulses are transmitted to a stepping motor that drives a chain of gears and finally the watch hands. In the case of a digital watch, the integrated circuit continues counting pulses as they add up to minutes, hours, and days.
Compared with mechanical watches, quartz watches do a better job at practicing the promise of better timekeeping. Most quartz watches measure their accuracy per month. On the contrary, even the most accurate traditional mechanical watches measure per day. However, it should be noted that not all quartz watches have the same performance when it comes to accuracy.
Over the past years, watchmakers around the world have been introducing new HAQ (High Accuracy Quartz) for quartz movements. Generally, a quartz watch with a variation of -10/+10 seconds per year is considered to match the title of HAQ.
1. Citizen Eco Drive Calibre 0100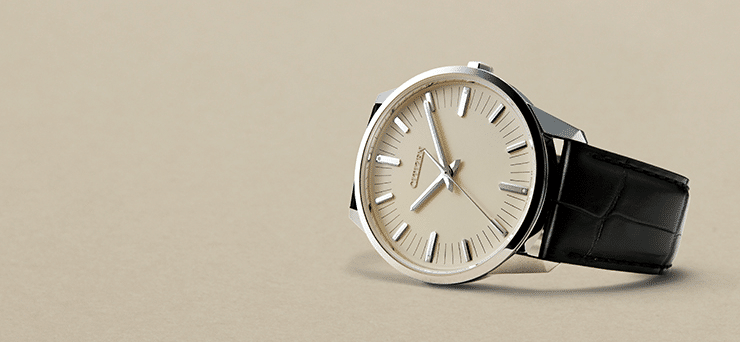 Citizen Eco Drive Caliber 0100 can achieve accuracy within one second per year autonomously without relying on data from radio towers or satellites. In order to achieve such unprecedented accuracy, Citizen Eco Drive Caliber 0100 utilizes AT-cut type quartz crystal oscillators vibrating at a frequency of 8,388,608,250 times higher than tuning fork-shaped crystal oscillators. Owning to this new mechanism, it is resistant to temperature fluctuations, gravity, and age degradation.
More importantly, Citizen Eco Drive Caliber 0100 further improves its greater accuracy by monitoring and adjusting for frequency and temperature shifts every minute in a continuous manner. The optimal operating temperature is between 5°C to 40°C, which is deemed to be the most practical temperature environment for most watches in the majority regions around the globe.
Citizen Eco Drive Caliber 0100 introduces a new circuit design featuring higher shock resistance, which automatically corrects positions of the watch hands. Its antimagnetic feature protects the movement from effects of magnetic force. Owing to these innovations, Citizen Eco Drive Caliber 0100 delivers an unprecedented ±1 second yearly precision that is rarely seen in quartz watches from its rivals.
2. Longines Conquest V.H.P.

Longines firstly released its VHP series in 1984. Ever after, Longines and its partner, Asulab, continued to develop the movement over the following decade or so. While one of the most significant contributors to the inaccuracy of quartz watches is temperature variation, the VHP was equipped with a thermocompensated movement. Later models further included a perpetual calendar and a ten-year lithium battery. Longines found that consumers' demand for such a degree of accuracy was not worthy of their efforts, and the VHP was eventually discontinued. However, it was back in 2017 with accuracy within ± 5 seconds per year, very much technically in the spirit of the original VHP quartz watches.
These watches were offered initially in a three-hand-and-date version, with two dial treatments, and as chronographs, also with two different dial treatments. The three-hand versions were available in 41 or 43mm case sizes, and the chronograph, in 42mm or 44mm cases. Additional features included a very appealing gear position detection mechanism allowing the hands to be re-aligned when they are displaced by a shock or a strong magnetic field, a perpetual calendar, and a five-year battery life.
3. Bulova Precisionist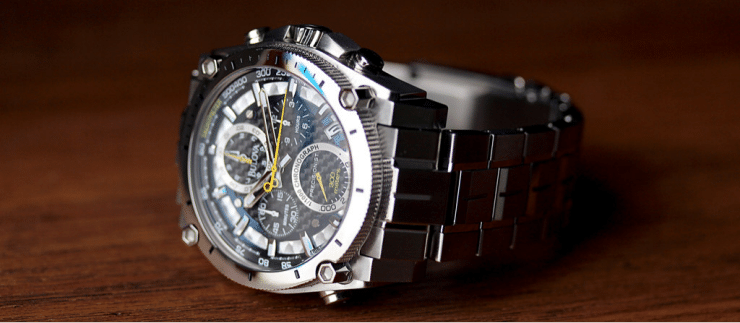 The Bulova Precisionist is highlighted by a new type of thermocompensated quartz movement. Apart from this, the Precisionist watches also have a continuous sweep seconds hand, which is highly distinctive intrinsically. The smooth running of the seconds hand is usually one of the most popular selling points of some several-thousand-dollar watches, and here the same type of action can be found in a watch costing only several hundred dollars.
As has been known by every quartz watches manufacturer, the accuracy of quartz watches depends upon two factors: temperature changes and vibration frequency. Bulova has added a third prong to the quartz crystal and increased the vibrations of the Precisionist movement to eight times the frequency of a commonly seen quartz watch.
This allows its seconds hand to move at sixteen times per second compared to one beat per second on standard quartz watches. According to relevant statistics, most quartz watches will run within fifteen seconds per month, but the Bulova Precisionist is impressively accurate to ten seconds per year, which is a more fantastic feature considering the price of the watches.
Lightweight and Slimness
Wearers of watches of nowadays may deem them more decorative accessories than devices by which they merely tell time. Thin watches are timelessly sensible and look great on the wrist. With the advent of complicated timepieces and the development of the wristwatch in the early 20th century, the race to downsize became more fierce. This led to the development of ultra-thin watches, majorly guided by the need for an elegant accessory as well as the age-old pursuit of making the watch thinner.
One of the advantages that quartz watches offer over mechanical watches is that movements of quartz watches can be made thinner than mechanical ones. Some quartz movements are thinner than one millimeter. Slimmer movements enable manufacturers to produce sleek and streamlined quartz watches.
1. Citizen Eco-Drive Stiletto Dress Watch
Citizen never fails to impress, and the Eco-Drive series is usually their frontrunner to dazzle the ultra-thin quartz watch lovers. They were able to achieve a record-breaking 5mm thickness on this 36mm case, giving its wearer a low profile when it's on the wrist and a whole lot of style without demanding a more significant presence. They still managed to squeeze a ton of features into their jet black Stiletto dress watch, including an agreeable 99 feet of water resistance and a scratch-resistant dial window of sapphire crystal.
All these functions are accompanied by one of the best steel bracelet straps that can ever be found: seven links work in unison to deliver a unique look, but also an ultra-comfortable feeling and dashingly smooth function. Unlike other steel bands, it doesn't bunch up from slight movements. The hairline dash markings keep the overall aesthetics of this Citizen quartz watch face clean and simple, while the Japanese quartz movement powers the analog display from the core.
2. Titan Edge Ultra Slim Watch
The previous generation of Titan Edge was introduced in 2000 when even the revered Swiss claimed it was an impossible task. In 2017, the most recent generation of Titan series was released. Titan is renowned worldwide for its unmatchable innovation and fashionable designs. Each Edge watch is exclusively crafted to epitomize classic elegance and contemporary aesthetics, exhibiting the highest precision in design. Edge is powered by a movement as thin as a credit card and is the most sophisticated offering from Titan. Every watch of the Edge series is characterized by classic elegance and contemporary.
Edge quartz watches boast wafer-thin dials with sapphire crystal glass and are available in a metal bracelet or croco-leather strap options. Edge Date resonates with elegant simplicity and is powered by the slimmest quartz movement on the planet. Titan Edge series has been acknowledged by the prestigious Red Dot Design Award, renowned for setting the standard of design quality. Having won consecutively from 2013-2014 for the innovative ideation and exceptional design, the Edge quartz watches inculcate superior quality and timeless elegance.
3. Bulova Men's Classic – 98A167
Bulova stands for classic style and timeless design, and they have beyond achieved that with Classic 98A167 quartz watch. The genuine leather band wraps delicately onto the rods supported by the ultrathin case, enveloping the wrist in comfort. That case is only 5.6mm in depth. The majestic appearance on top looks heavy, but it is a wildly lightweight watch, even with the durable quartz movement embedded in the case.
That powers the lovely-looking analog display. Hands of the wearer are hollowed out about halfway up, pointing to the gold marks on the twelve, three, six and nine o'clock markings, while the remaining minimalist markings are crafted out of steel. The crown even comes into the display with a bit of color, tying the whole look together. Ninety-nine feet of water resistance, a year calendar function, and a mineral crystal dial window enable the watch to keep everything locked down. Thin and simple, yet enticing as they come.
Multifunction and extendibility
As has been mentioned above, unlike mechanical watches that are quartz movement is generally driven by a clockwork mechanism, the quartz crystals in quartz watches are driven by an electric charge. Electric charges can be of various origins including batteries, solar light or mechanical parts. This has given manufacturers of quartz watches more ways to realize the operation modes of their quartz watches. Another reason that contributes to the diversity of quartz watches is that a quartz timepiece has fewer moving parts and the manufacturers of quartz watches can better take advantage of space inside of a watch to squeeze more functions in a single watch.
Those who want to find a multifunction watch with a mechanical movement have a great chance of ending in being disappointed. The vast majority of watches showing up in a list of multifunctional watches are quartz watches. Here are some of the frequenters of multifunction watches lists.
1. Omega Speedmaster Skywalker X-33
Omega Speedmaster Skywalker X-33 was worn by German geophysicist Alexander Gerst when he was experiencing his first tour on the International Space Station in 2014. He conducted experiments for around six months and photographed the earth in new and fascinating ways. Omega Speedmaster Skywalker X-33 follows in the footsteps of the multifunctional Speedmaster X-33 and the Speedmaster Professional Moonwatch, which witnessed every manned moon landing.
Omega Speedmaster Skywalker X-33 was specially manufactured for astronauts. In addition to the analog time display with hands, the digital display also shows three different time zones and has three alarms, date, countdown timer, a chronograph, phase-elapsed time (PET) and mission-elapsed time (MET). Its 45-mm case is made of lightweight grade 2 titanium.
2. Breitling Cockpit B50
Breitling is globally renowned for its pilots' watches, which include not only mechanical models but also multifunction quartz watches. The best-known one of these has been the Breitling Emergency, which, has saved numerous victims of air crashes or maritime accidents with its integrated emergency call transmitter.
In 2014, Breitling introduced the Breitling Cockpit B50, which has a new, thermo-compensated, chronometer-certified quartz movement. Breitling Cockpit B50 has luminous hands for the time and LCD displays for the chronograph and countdown functions. It also boasts two alarms and a second time zone. One single push can switch the time zones from analog display to the digital display. Its flight-time function is especially helpful to pilots. Only one push button needs to be pressed upon start and landing. Start, landing and flight times can be stored, read and transferred to the cockpit and flight records. Two pushes on the crown move hands away from the digital displays. Its backlight will switch on automatically when the wearer tilts the wrist to tell the time.
The newly designed rechargeable battery can be charged using an AC adapter or a USB cable. The bezel, which can move in both clockwise and anticlockwise manner and is inscribed with cardinal points and markers at ten-degree intervals, has been proven helpful in navigation. The Cockpit B50 costs several thousand dollars with a 46-mm titanium case and a titanium bracelet.
3. Tissot T-Touch Expert Solar
Tissot T-Touch Expert Solar boasts everything that mountain climbers need – strength, perseverance, and physical endurance. Tissot combines a timepiece and an altimeter in its Tissot T-Touch Expert Solar.
Tissot hit the front page in 1999 with its T-Touch and its touch-screen functions. Ever after, the original T-Touch has expanded into a series of watches with a broad spectrum of functions. With the introduction of the Expert Solar in 2014, Tissot went further by adopting solar-powered technology which makes the power of the watch will almost never run out since the watch needs only sixteen minutes of sun for daily operation., it will run for an entire year, even in the dark when it is fully charged
The T-Touch Expert Solar features a lightweight, 45-mm titanium case with a chronograph with logbook function, a world-time display, and a countdown timer that will automatically start the chronograph. The case displays altitude, altitude gain and barometric pressure. The electronic compass inside the watch can be hugely helpful in the mountains. The minutes hand can point due north when needed. The programmable azimuth facilitates navigation enables the watch to show whether you're moving towards the right direction by a three-digit course in degrees. Each of these functions can be activated and controlled by touching the scratch-resistant sapphire dial window. The watch is suited for swimming since it is water-resistant to 100 meters. It costs a little over one thousand with a rubber or a silicone strap and a little more with a titanium bracelet.
What Is the Future of Quartz Watches?
It is very much likely that the battle between quartz watches and mechanical watches will rage on for the foreseeable future. Enthusiasts of mechanical watches value their traditional skills and crafts as well as the complexity of its movement while zealots of quartz watches make their choices out of various reasons. The audience of both of the two types of watches are oftentimes separated. Apart from the battle with mechanical watches, nowadays, many observers of the watchmaking industry are concerned that quartz watches are going to be replaced by smartwatches in the same way that people had been worried about the likely extinction into which quartz watches would have out mechanical watches. However, given the most recent development trends of the quartz watch industry, we may come to a safe conclusion that quartz watches are on the way to greater popularity and prosperity.
The most essential evolution of quartz watches will be the integration of quartz technologies and diversified power mechanisms. For example, to free quartz watches from frequent replacements of batteries, a wide range of quartz watches manufacturers have introduced solar technologies and kinetic movement to produce electrical energy instead of using battery cells, which endows quartz watches with more environmental friendliness, higher performance, and more long-lasting convenience. Seiko, which may be the one that went the furthest, released its Seiko Astron GPS series in 2012. The new Astron works anywhere, even in the middle of an ocean or desert and automatically most significant which time zone they are in. It is on the quartz movement of the watches that their GPS and solar functions are based. Their accuracy has unprecedentedly reached ±1s per 100,000 years.
Key innovations adopted by a large number of manufacturers of quartz watches ensure that they remain the choice second to none in terms of precision, functions and appearance. Another somewhat less expected development is the recent repatriation of quartz technology as an exciting and luxurious product in itself. High-end watches have managed to subvert stereotypes of many against them that quartz watches are cheap by introducing new and luxurious parts and accessories. In this sense, quartz watches have done a better job than mechanical watches when they are trying to seize the attention of purchasers of luxuries on a more reasonable and affordable price.
Back in the more affordable territory, which is one of the main advantages of quartz watches, quartz watches are used both in analog watches and digital watches. Although there has been a rise in smartwatches, quartz watches are usually low priced, making them always an economical and simpler alternative so that practically anyone can get their hands on a watch that both looks nice and costs less. Quartz watches secure a safe seat where not everyone neither wants the most recent smartwatch nor will want to spend a significant amount of money on a more traditional mechanical watch. In other words, quartz watches touch a broader spectrum of users, from economical timekeeping solution finders to luxuries enthusiasts.